Marlin (Black & Blue)
Marlin marine and security radar
Manufacturer = DMT, LLC (Detection Monitoring Technologies)
Warranty = 1 year Limited Warranty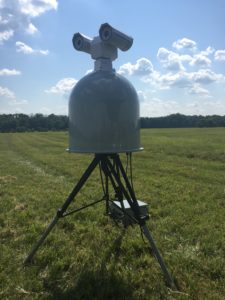 The Marlin is a low-cost, X-Band, pulsed radar for security applications. It spins at a fast rate in a 360 degree continuous pattern or can perform sector scans (scanning between two angles).
For maritime installations, it differs from other marine radars in that it does not use rotary joints (which regularly fail in less than 1 year when used 24/7). It is built much stronger and more durable than your standard marine radar. There are two types of Marlin systems:
Blue Marlin — Dual-magnetron based (over water only);
Black Marlin — pulsed Doppler, Solid-State Amplifier based (for land and water).
Magnetrons have lower MTBF than their solid-state counterparts. Therefore, DMT has included two magnetrons in the Blue Marlin. One magnetron is a fail-safe in the event of failure of the primary magnetron. The solid-state Black Marlin has a 100-watt to 1000-watt amp.
The Blue Marlin requires no regular maintenance in the first year of operation. The magnetron heads need to be replaced at the end of the first year. The Black Marlin requires no regular maintenance in the first 4 years.
After 4 years, it is recommended that the radar be inspected. When doing this inspection, DMT recommends the belt can be changed (even though their MTBF exceeds 5 years) for preventative maintenance.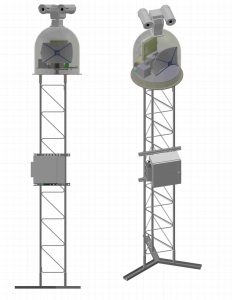 Compare this to other marine radars, when used 24/7 in security, which require maintenance every 3 to 6 months. Also, all other marine radars cannot perform sector scans, so in those facilities not requiring 360 degrees of coverage, there are times during rotation where no part of the site is being covered.
The Blue Marlin does not employ Doppler. So it does become limited by signal-to-clutter limits over land. This is the main reason for using this radar over water only. For heavy clutter (like tall blowing grass and shrubs), DMT recommends the Black Marlin, or the IDAR for shorter ranges, or the XRDS for longer ranges.
The Black Marlin is one of DMT's most popular drone detection radars. This radar also has SmartScan, which automatically adjust the radar antenna vertical scan based on the Doppler response (positive or negative) of the drone.
The Black Marlin and the XRDS are the two most popular airport security and port security radars as well.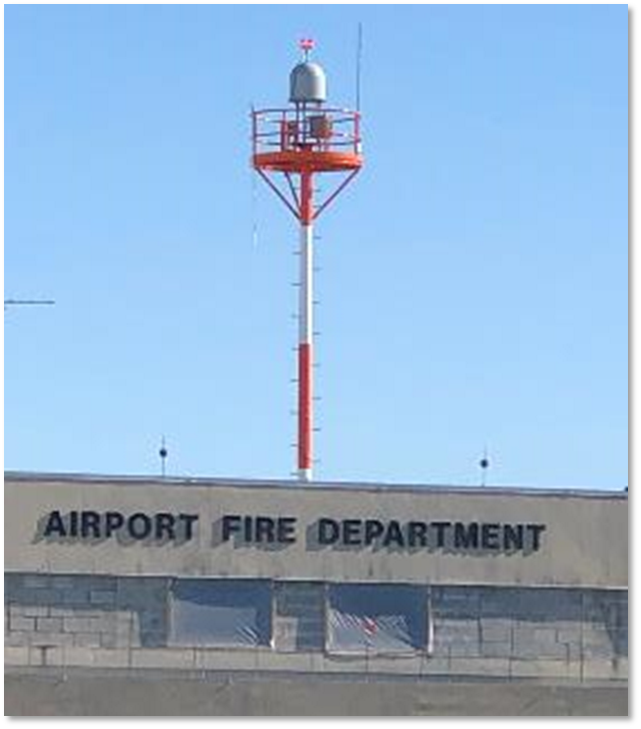 | | |
| --- | --- |
| Transmitted Frequency | X-Band, 9.41 GHz (Blue Marlin), 9.25 GHz (Black Marlin) |
| Peak Radiated Power | Black Marlin — 25, 100, 300, 500, or 1000 Watts solid-state Blue Marlin — 4 kilowatt magnetron solution |
| Average Power | Maximum < 1 Watt solid-state, ~5 Watts magnetron solution |
| Antenna Beamwidth | 4 degrees x 25 degrees (azimuth x elevation) or 7 x 7 degrees (azimuth x elevation) |
| Scanning | Standard Configuration: continuous 360 degrees rotation Sector Scanning (1 to 360 degrees) Scripted Scanning (sets min and max range versus azimuth in 1 degree increments). Elevation Scanning — Black Marlin only. The radar antenna can tilt form -15 to 90 degrees (straight up). |
| Scan Rate | Black Marlin — up to 300 degrees per second, but typically set from 60 to 150 degrees/second. Blue Marlin — 50 RPM (variable from 1 to 50 – system automatically sets spin speed for optimal coverage). Typically set to 150 to 200 degrees/secon. |
| Bandwidth | 1-5 MHz (selected via dip switches) |
| Pulse Repetition Frequency | 4 kHz (others selectable from GUI for the Black Marlin) |
| Range Resolution | 1.5-6 meters (selectable) |
| Range Accuracy | 3 or 6 meters |
| Range Scales | set max range scale from GUI |
| Detection Performance | Approximately 3-8 km for small objects (like humans or kayaks) for Black Marlin (depends on amplifier selection). Longer ranges for cars and boats. |
| Communications | TCP/IP connections via RJ/45 connector. Fiber and wireless available using the DMT DCPM DMT security protocol and NMEA 0183 formats |
| Tracking | Links detections together to form numbered tracks LAT/LON coordinates provided Useful for 3rd party trackers |
| Operating Temperature | -40 to +60 deg. C Blue Marlin, -40 to +65 deg. C Black Marlin |
| Power Requirements | 24 VDC AC (autosensing 110/220 V)—requires DMT's DCPM. Power consumed: 100 Watts |
| Size | 28 W x 26H inches |
| Weight | Radar: <75 lbs. DCPM (converts AC power to DC power for radar and camera, as well as supplying network communication to both): 60 lbs. Pole Mounted Bracket: 36 lbs. |
| Internal Operating System | Windows 7 Embedded. |
| User Interface Operating | Standard Windows Platform running Windows 7, 8, 10 |
| User Interface Software | Use DMT's Remote Client Interface. Also works with many available maritime interfaces Opens as a Windows standard software interface Map, drawing or aerial image/photo overlay of data |
| Mounting | Rohn 45G tower mounts Schedule 80, 8-inch pole mount Custom mounts are available, but delivery times vary |
| Radomes | Material: NOMEX with Cardinal coatings to protect against oil, gas, solvents, saltwater, UV, and abrasion.Colors: White, Sand, Green, Gray (default)Radome is attached via stainless steel ¼-inch hardware.¼-20 threaded hole pattern on top for mounting hardware. Weight limit is 125 lbs. |
| Connectors: | DMT provides bayonet style connectors that feed power and all signals. Weatherproof connectors RJ/45 Connector Twist-on Power and RJ/45 connector |
| MTBF: | >4 years. |
| Required Maintenance: | Occasional radome cleaning. Belt replacement recommended after 2 years. |
| GPS | Embedded GPS |