Camera Integration
DMT has integrated with cameras from many companies, including:
Axis (dome camera models)
EMX International,
FLIR (most cameras, including HRC, PT-Series (e.g., PT-606, PT-602CZ), Ranger MS-UC ),
General Dynamics (all EOSS Models)
IEC Werewolf and Wolf,
Lockheed Gyrocam,
Moog (cameras with pan/tilts or gimbals),
Pelco (many models),
PVP (all models),
Vicon security dome cameras,
Vumii (Opgal).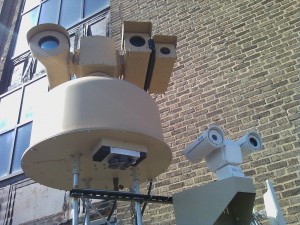 DMT Radar with integrated PVP and FLIR cameras
When DMT says integration, it means full integration. DMT borrows or buys the camera to confirm operation. DMT has a solid-state power supply in the DCPM, which can power the cameras. If the camera is not TCP/IP based, then the control is completed using RS-422/485. And the video can be fed to the video server housed in the DCPM.
DMT also improves some cameras. For instance, for the FLIR PT-Series, DMT adds a rugged connector and backplate. This is better than the cable grip connectors that come with the camera. DMT also builds tower and pole brackets for most camera models as well.
Contact DMT for cameras not listed above.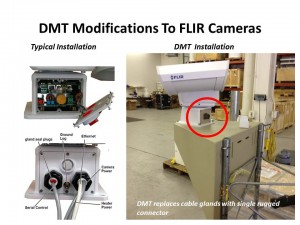 DMT fully integrates cameras when they purchased through DMT. See the back panel built by DMT above. Bracket also built by DMT.