DCPM
DCPM = DMT Camera and Power Module
Manufacturer = DMT, LLC (Detection Monitoring Technologies)
Warranty = 1 year Limited Warranty
The DCPM is combination power supply and network communication device for DMT radars and cameras. The device requires AC power (110/220 VAC 50/60 Hz) and outputs 24 VDC to cameras and the DMT radars. One radar and up to 4 cameras can be powered by this device.
This module includes:
AC/DC power supplies with power conditioning;
Network switch;
4-port Video Server (optional 4-port video server);
2 Network RJ/45 weather-proof connectors;
1 thru-hole connector for multimode MM fiber (optional single-mode SC fiber);
1 DMT radar power connector;
1 camera control connector (optionally 4 camera control connectors);
1 BNC video connector (optionally 4 BNC connectors);
Push-button, LED switches for powering on/off cameras, radars and DCPM itself;
Optional Wireless Antenna port with omni-direction antenna (cannot be ordered with 4-port video server).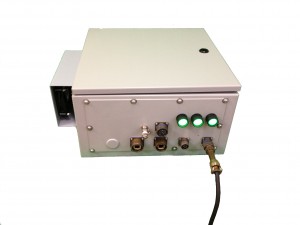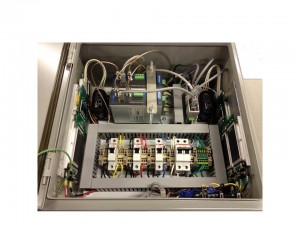 Below is the list of available Configurations for the DCPM. Configuration #1 is the standard configuration included in all the security bundle packages. All other configurations are slightly more expensive than the standard configuration. The universal port allows other devices to be added to the network. AIS (Automatic Identification System), Blue Force Tracking systems (BFT), and single mode fiber hardware options use the universal port. System Integrators may also use the universal port to provide network and power to their external devices.
Configuration
Radar
Ports
Camera
Ports
Network
RJ-45
Network
MM-fiber
Network
Wireless
BNC
Video
Ports
Universal
Ports
1 (Standard)
1
1
2
1
0
1
1
1
2
1
2
2
1
0
0
4
1
3
1
1
2
1
1
1
1
1
4
1
4
2
1
0
0
4
1

The network switch is an industrial 10/100 MBPS switch with RJ/45 and multi-mode (optional single-mode) fiber connectors. The video server allows for capture of analog video from the camera to broadcast (multicast or direct TCP/IP) digital video with H.264 video compression. The camera connector mates to a DMT camera cable for the FLIR PT series cameras, FLIR Navigator cameras, Pelco Spectra IV cameras, and a variety of other vendor's products. The umbilical radar cable connector integrates power and network communication to a single radar. A termination kit is included for installing multi-mode and single-mode fiber.
The DCPM is an outdoor enclosure and can be mounted to poles, Rohn 45 G towers, or walls (see Figure 2). It is designed for -40 to +65 degrees C operating temperatures. It is made for all-weather operation and requires no maintenance for years.
Software for monitoring cameras and video is available. This Windows-based software allows for manual control from a keyboard and mouse of camera features, such as pan, tilt and zoom. Contact DMT for details.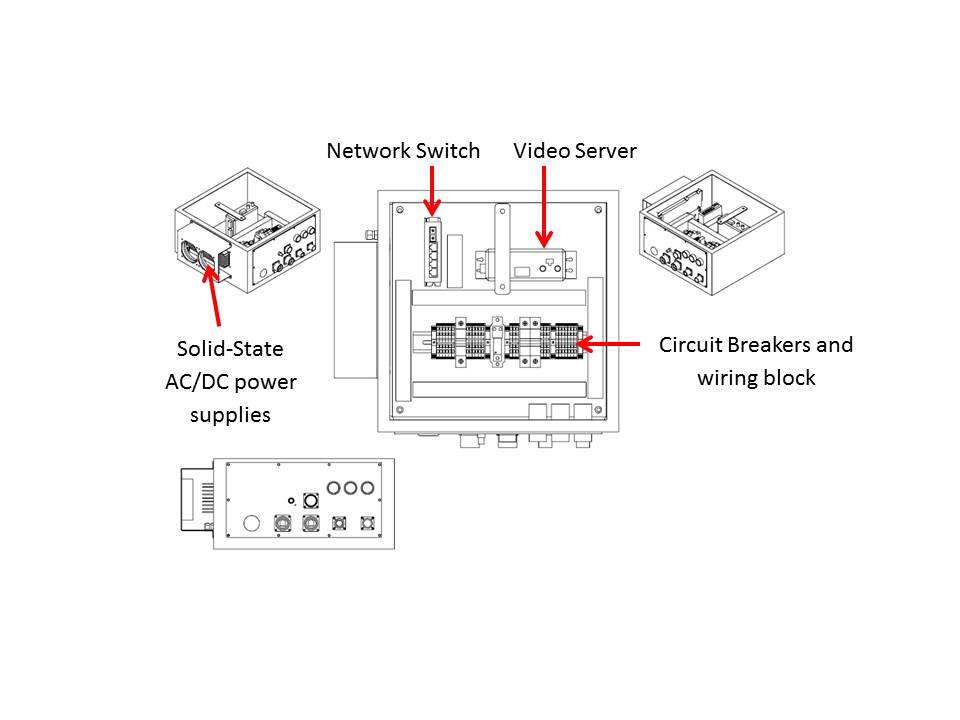 Size
16 x 16 x 9 inches (excluding fan brackets)
Weight
55 lbs (Maximum weight – may be lower with different options)
Maximum Input Power
650 Watts AC. (Note: Maximum DC power consumption is 500 watts.)
Network Switch
10/100 MBPS4-port RJ-45 (one to be used for video server, one for radar, two for RJ/45 bulkhead connectors)1-port multi-mode fiber Optional 1-port single-mode fiber
Video Server
Port Video Encoder. Axis Q7424-R (4-Port) See datasheet: http://www.axis.com/en/files/datasheet/ds_q7424_46817_en_1211_lo.pdf
Video Compression: H.264, or MPEG, or both (over two video streams)
NTSC or PAL (set manually)
Input Format: Analog Video or RJ/45 Digital video
Max Frame Rate: 30 fps for each video stream (NTSC), or 25 fps for each video stream (PAL). 15 fps in quad view.
Maximum video resolution (pixels): 720 x 480 NTSC, 720 x 576 PAL
PTZ Ports: one RS-232/422/485 port
Latency: < 200 msec.
Optional Wireless
Data Rate: 802.11b: 1, 2, 5.5, 11 Mbps
802.11a/g: 6, 9, 12, 18, 24, 36, 48, 54 Mbps
802.11n: 6.5 to 300 Mbps (multiple rates supported)
Dual-RF Design: 2.4 GHz or 5 GHz
802.11a: 18+/-1.5 dBm at 6-24 MBPS, 15 +/- 1.5 dBm at 54 MBPS
Best RX Sensitivity:  802.11b: -97 dBm at 1 MBPS
802.11g: -93 dBm at 6 MBPS802.11a: -90 dBm at 6 MBPS
802.11n: -68 to -71 dBm depending on mode and bandwidth
WPA/WPA2 Personal and Enterprise
SSID broadcast enable/disable
Includes omni-directional antenna. Optional high-gain antennas available.
–
A second wireless device should also be purchased when this option is ordered.  This second wireless device should sit near the command center or near a network switch on the security network.  (Contact DMT for details.)
Maximum Input Power
650 Watts AC. (Note: Maximum DC power consumption is 500 watts.)
Maximum Output Power for Cameras
400 watts
Maximum Output Power for Radar
150 watts
Operating Temperature
-40 to +65 degrees C
Mounting
Rohn 45G tower mounts
Schedule 80, 8-inch pole mount
Custom mounts are available, but delivery times vary
Switches
LED-illuminated push-button switches for radar, camera and enclosure.
Connectors:
All connectors are weather-tight.

Twist-on 3-wire connector
RJ-45 Connectors (quantity 2, with one used for the radar)
BNC connector (optionally 4 BNC connectors)
Thru-hole connector/gland for multi-mode fiber or single-mode fiber
Twist-on many-pin radar connector
Twist-on many-pin camera connector (1 or 4)
MTBF:
5 years.
Required Maintenance:
None